Mike Speaks: The Holiday Inn and Silly Pranks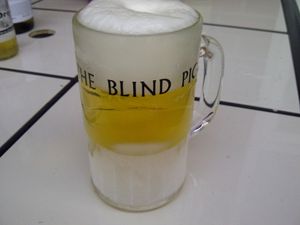 Thinking about my favorite gig there was a lot to consider.  There are different kinds of gigs such as a club gig (typically 3 to 6 nights), one nighters, touring gigs (either headlining of supporting acts), corporate gigs, Jams Etc. So I like a particular type of gig for different reasons.  The gig I'm going to talk about is a club gig. It was a 6 night gig in Ottawa at a pub called the Blind Pig located in the downtown Holiday Inn. This was my favorite gig for a number of reasons. 
Reason 1.  A 6 nighter means you set up once and sound check once.  The rest of the week you just show up and play. No tear down and travel for 6 nights. 
Reason 2. Nice accommodations. Most Holiday Inns are appointed the same everywhere you go so it feels familiar and you will get a better night's sleep. The beds were nice the rooms were nice. Clean towels every day. No unsavory people hanging around. 
Reason 3. There was a pool. It's always a bonus if there is a decent pool. Swimming is one of my favorite exercises. 
Reason 4. I met an amazing young lady there, and she became my girlfriend for years. 
Reason 5. I met a hooker there that loved to play video games and the bass player and I would play video games with her every day after practise until the bar opened for lunch.  I could never beat her, but she was fun to talk to. 
Reason 6. Ottawa was and still is a great place to be.  There is tons of fun stuff to see and do there. 
Reason 7. We played a number of practical jokes on each other. Here is one of them. 
We all had our own rooms which should be part of Reason 2, but I'm wandering a little. One thing we did religiously at about 6:00pm was gather in somebody's room and go through all the harmonies for the show.  I would bring a guitar and we would just sing the harmony parts for every song. On this particular day, we were meeting in Ed's room. Ed is my brother. 
Now, I had noticed that Ed's room was directly across from one of those old style ice machines.  These ice machines were almost 5 feet tall, they had 2 slanted doors where you would scoop the ice out and they must have been 6 feet long.  They were big! The one beside Ed's room was not working.  It had no ice in it. It was unplugged and had been cleaned up. I suspect it was waiting to be repaired or it had been just delivered and had not been turned on yet. 
I arrived first to Ed's room and waited outside for more people to show up. I asked one of the other guys in the band to go into Ed's room, wait 5 minutes and then ask Ed to go and get some ice.  I climbed into the ice machine and waited. 
A few minutes later, I could hear Ed coming out of his room. He walked up to the ice machine and opened the door. I jumped out and yelled "Booga Booga". This caught Ed by surprise, and he actually yelled, went stiff and fell over along with his little ice bucket. In my entire life, I have never seen Ed that scared. I'm not sure if Ed ever forgave me for that one. 
Anyway, there were a few other pranks that kept us laughing and the week would always fly by. I guess it's not always the gig, it's the other stuff that you remember.  BTW – Sorry Ed.
Sabrina Speaks: The Plaza Hotel and Tales From Lenny's Diner.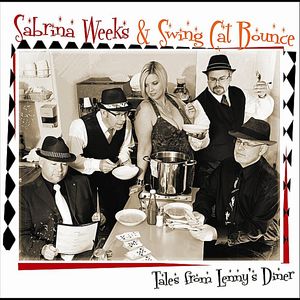 My favorite gig took place in Kamloops, BC at the old Plaza Hotel downtown.  It was held in October and was the CD release party for our first CD.
After gigging together in the Salmon Armenians for 2 years, Mike and I decided that it was time to put together our own band. Seeing that we both loved blues and we were both song writers, we wanted to put together a band that wrote and performed original blues.  
Because we were based in Kamloops, BC, Canada, doing this was a little challenging. You see, Kamloops is a classic rock town.  What we noticed was that most of the popular bands in town were cover bands who played classic rock. We felt that It would be relatively easy to introduce ourselves to a ready-made audience if we too just played classic rock. That, of course, wasn't us nor was it what we wanted to do.  Because of this challenge, we really didn't have any place where we could perform once the new band was formed so we knew that we needed to do something different. 
On the positive side, there was a successful pop-up blues bar in Kamloops that had changed formats (changing from blues to classic rock) a few years earlier so we were hoping that there was still a group of blues fans who were displaced and looking for something to replace that with. With this in mind, we decided that we needed to host our own shows. 
Unlike when bands get hired to play at venues, hosting your own shows puts all the responsibility and risk in your lap. Suddenly, you have to find the venue, pay to rent it, acquire any necessary insurances, pay to promote the show by postering, buying radio and online ads, designing, printing and selling tickets, arranging the seating, hiring production providers, and then deciding how you wanted the evening to go down. This was a ton of work that required a huge amount of time and money to achieve. 
Fortunately, I loved this part a lot so the band didn't really have to do much.  I didn't have a ton of money but I certainly was willing to spend the time. Every night, while Mike and I watched movies (or should I say while I watched and Mike SLEPT through movies lol), I would sit in my chair and promote this show -  sometimes going as far as contacting people individually via messenger and personally inviting them. I spent hours creating promotional materials and then posting on Facebook. I sent out our press releases and contacted the local radio stations. I also put up little info tents as part of some of the open-air events in town such as the farmers market where I would tell people about the show and what we were building. I had the best time doing this.  Most of our ticket sales for this show were through word of mouth. I truly LOVED selling the tickets and promoting the shows. 
As a band, we spend months writing new material, rehearsing the songs and then recording a brand new blues CD called "Tales from Lenny's Diner."  When it was time to release the CD and perform the new songs to an audience, we were ready and the event was waiting for us. There was a definite buzz. 
By the time October rolled around, we had a sold out show.  It wasn't a huge event. It was intimate with 200 people in attendance, but they were all stoked to be there. Each person bought a ticket to attend and most of them also bought a CD. 
The day of the event, excitement was in the air. Hours before the show would start, I was on site to greet all the attendees personally and to help them find seating.  All the tables sat 8 people so I often helped parties of twos or threes find places to sit with like minded friendly folks. I'm certain that new friendships were formed. I loved this part the most, almost more than the singing part. 
Once the room was filled and everything seemed to be going well with all the patrons settled, I knew that it was time to start the show. As the band approached the stage, the crowd started to cheer.  This is always a good sign. It felt amazing to be surrounded by such a loving and supportive crowd.  From the first downbeat to the very last note, the dance floor was filled.  The band played exceptionally well. This version of Swing Cat Bounce was made up of Mike and I, of course, with the addition of Mike's talented brother on drums, Ed Hilliard, Ken Sell on bass and the amazing Bill White on second guitar and background vocals.  We played 3 sets.
The first set was made up of all the songs that we recorded on the new CD.  The next two sets were just awesome party songs. We played blues and R&B covers along with some of our favorite rock-n-roll tunes.  The room was hot and sticky.  The audience was engaged and appreciative. They even hushed when for the quieter songs and sang along when promted to do so.  Most importantly, they loved and danced to our original songs. Nothing feels better than that.
I've had many awesome gigs over the years but this was, and still is, my very favorite gig. Thank you Kamloops.