MIke's Worst Gig: The Welland House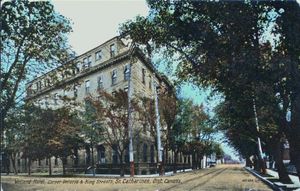 When we decided to write about our worst gig this week, I had to do a lot of thinking.  I have played all across Canada, the USA, and many other countries. I have played thousands of gigs, and there have been a lot of bad experiences on the road. The reason I picked this gig to talk about is because there are two stories attached to this gig and I am going to talk about both of them. 
In 1982 I was living in Ontario.  I was recording and playing live 5 or 6 nights a week about 50 weeks a year.  The name of the band was Steamer.  Our music was getting some play on the radio but not enough to get us on the concert circuit so we played in bars most weeks.  
Our agent booked us into the Welland House in St. Catharines Ont. We arrived not knowing anything about the place.  The Welland House was an old historic hotel in downtown St. Catharines. Everything about it was old. The bar was run by what looked like a bike gang.  There were 2 stages in this bar - one stage for the band and one stage for the strippers complete with disco lights and a stripper pole. As an aside, there is an unwritten rule amongst all bar bands. The rule is "Never touch the stripper pole" but I digress. 
Setting up to perform at a strip club can be problematic because the bar manager makes you stop setting up while the girls are performing. This made the process take 3 times as long as usual. After sound check, we went upstairs to check out the accommodations. The rooms were old and in terrible shape. The beds looked like they were 50 years old.  The only other people in the hotel appeared to be long term residents. In short, this placed looked like a place where old sailors and old hookers came to die. None the less, we moved our luggage in, went for a bite to eat and started to get ready for the gig.  The band got the rooms directly over the bar so the entire time we were in our rooms there was this constant loud thumping from the music in the bar as the strippers were doing their thing. 
The first night we played to about 5 people.  Everybody left after the strippers finished.  The 5 people that were there mostly ignored us. We finished the night and headed to our rooms to find that somebody had broken into our rooms and stole everybody's cash out of their wallets.  Somebody appeared to have keys to the band rooms and just walked in when they could hear us playing downstairs. It was probably 3am by the time we had settled down and everybody went to sleep. 
At 10am the next morning, I was woken by a DJ talking over the PA in the bar. 
"Gentlemen put your hands together for Bambi!" and the loud thumping music started again. As I recall, for the rest of the week, the band would get up at 10am and wonder off to the library, and basically stay there until it was time to play.  We kept our wallets with us at all times. When the bar did fill up towards the end of the week, the clientele was mostly bikers and rough looking folks. We were very happy to pack up and go home.  Our manager booked us into the Welland House again and because we had a hole in our schedule and we hated to take time off, we agreed to go back.  About 5 days before we were scheduled to go back into the Welland House, we got a call from our manager who said that the Welland House was closing. We weren't very sad. 
Now I said there was going to be two stories and here's the second one. 
The year was 2006 and I was working as a Systems Analyst for a Government Corporation in British Columbia.  We were expanding one of our departments and hired a few consultants to come in.  I was working fairly closely with one of the consultants and we got to talking, as people do over coffee and lunches. It turned out that the consultant was from St. Catharines and had moved fairly recently to BC with his wife and young daughter. When he told me he was from ST. Catharines, I said that I had spent some time in St. Catharines. He asked me what I did there and I said that I use to be a fulltime musician and I had played there.  He turned to me and said, "let me guess, you played at the Welland House and the name of your band was Steamer". I was totally shocked.  I said wow, how did you know that?  He looked up and said "Really"!  He was obviously just as shocked as I was. He then explained to me that when he lived in St. Catharines he had to drive through the downtown area to get to work, so twice a day, 5 days a week for 3 years he passed by the Welland House and on the Marquee in the front of the hotel it said "Appearing next week STEAMER" 
So in the words of Huey Lewis…"It's a small small world"
Sabrina's Worst Gig: Thunder Bay's Should-Be-Abandoned Bar
Deciding on the worst gig I ever had was a difficult choice to make.  Sadly, there have been many awful gigs.  Some were bad because the crowds were mean or disrespectful.  Some were bad because of equipment failure. Some were bad because of the venue or accommodations.  Some were bad just because we weren't a good fit for the venue. I can honestly say that I have played my share of bad gigs but the worst gig that we played was actually a pretty intense concoction of all these bad components mixed together. 
Mike and I had embarked on our second cross Canada tour together. We had booked all the gigs ourselves. We booked pick-up musicians when we were planning to play as a full band and had prepared our new-to-us motorhome for the long journey. We were travelling with 2 blues shows – one full band show aka 'Sabrina Weeks & Swing Cat Bounce' and one acoustic blues show with just Mike and me. 
The trip across Canada had some challenges. We had two flat tires on our motorhome in two different cities – both caused delays – and we had to fire a pick-up bass player on the first night of a two-nighter in Saskatoon, but all in all, it was pretty good. Some of the gigs were poorly attended, but at each venue, we made at least one new friend or fan, and, to us, that was a win. Then we pulled into Thunder Bay, Ontario. 
I got this Thunder Bay venue owner's name from a mutual friend who had played at her place in the past.  Seemingly, this venue had hosted blues bands for many years.  I connected with the owner via messenger, sent her our promotional materials and she was immediately interested. She explained that how the gig worked was that she would charge $20 to each patron and that the money would go to the band. She went on and on about how successful her shows were, and she promised that we'd make at least $800 easy. From what she said, it sounded like she had the support of the local blues community and would have no problem filling up the bar. She also promised that all the promotion would be done by her and that hers was one gig that I didn't have to worry about.  She offered no guarantee of payment but offered us a room upstairs and a meal. I told her that we were travelling by motorhome but would probably be ready to have a really long hot shower by then. She laughed. Any way, the gig sounded wonderful, so we decided to take two dates – one on the way to Toronto and one on the way back. 
We used our GPS (which we lovingly names 'crazy bitch' – more on this another time) to find venues.  As we drove closer to the venue, we got a sense that the area probably wasn't the nicest part of town but this didn't alarm us. Many awesome blues venues are in places that, until you knew different, you probably wouldn't walk into by yourself at night.  As we approached the building we were scheduled to play at, both our stomached sank.  It looked like an abandoned building that should probably be torn down. It was way worse than a dumpy old club. I looked like an accident waiting to happen. There was no parking for us anywhere near the building so we found a 'no-parking' spot and ran over to talk with the venue owner about where we could park. She wasn't there. There was a bar manager and one patron.  The inside looked as bad as the outside. In my opinion, the kitchen was NOT legal by any means and probably shouldn't have been open. The bar manager said that there was no place close to park and was no help at all. At this point, we had already decided that there was no way that we would be eating or sleeping there but supposedly many people were coming out to see us play, so we were determined to honour the engagement.   
Loading into the venue was quite the challenge. We didn't tow our car on this journey, so we had to get close enough to at least load in. It was a duo gig where we had to use our own PA. Behind the venue was a tiny alley that we could barely traverse. Thank God Mike is such as excellent driver. He 'threaded the needle' and we were able to temporarily park there, load our gear in, have a quick sound check and then leave. I've never felt less comfortable leaving my gear anywhere before. I just had an awful feeling. 
After loading in, Mike had found a close by casino where he thought we could park so we headed there to eat and get ready. Turns out the Thunder Bay casino doesn't allow for motorhomes to park overnight but we talked the casino manager into letting us park there just until after the show. We took a cab to the gig. 
We arrived at the gig an hour before show time expecting the crowd to have started to arrive. We were hoping to meet some of the Thunder Bay Blues lovers. As we walked in, we were surprised to find no one was there.  No one.  This time the owner was there and she again assured us that the place would be packed. We took the time to wander about.  
From the inside, it had a funky vibe. It was decorated with scarves and odds and sods. It smelled like mold and stale beer. The walls were rife with stress cracks and you could tell that the foundation had shifted dramatically over time.  Even the exposed ceiling joists seemed distressed.  I did not feel good in there.  It seriously felt like the building was about to collapse. It didn't help that I couldn't shake that bad feeling. 
Soon enough, start time arrived.  All of two people had come in the door to see us. As we neared the end of our first set, there were 5 people in the room. This was quite upsetting but more upsetting than that, only 2 patrons were charged the $20. We played for $40 that night. It turns out that the venue owner had forgotten to promote the show, hadn't contacted the blues society at all and that those 2 patrons that came out to see us were actually Facebook friends of mine who happened to live in Thunder Bay. The venue owner seemed pretty matter of fact about it. She even laughed as she explained it to us. We were both upset but whatever - this wasn't the first time either one of us played to an empty room. LOL! 
After the show, we quickly got busy packing up our gear.  After packing up all the super heavy pieces, Mike left to get the motorhome from the casino. I stayed to start carrying the gear from the stage to the back door.  The back area was filled with lots of crap so it was difficult to traverse. By the time Mike returned, most of the gear was by the back door so we propped the door open and started pulling the gear from the club to the motorhome. The alley felt unsafe and it was starting to get dark so it was my first job to carry the guitars in.  The opening of the back door had a lip that was about 6 inches high. I was carrying Mike's blond guitar coming through the door when my sandal caught the lip causing me to trip. I didn't want to drop the guitar so I grabbed the door handle with one hand trying to catch myself.  This caused me to quickly spin away from the door.  The guitar fell. I kept trying to correct myself but I kept falling backwards and then 'thud." My head smashed against the concrete wall. I saw more than stars. I saw the entire universe flash for a moment. I screamed. Mike came running. I couldn't get up. It's possible that a stranger came to help, but I'm not exactly sure.  It felt like I couldn't move for a long time but maybe it was seconds. I cried huge tears. My world circled. My head, my foot, and my knee were throbbing. 
After a while, Mike was able to get me up and into the motorhome. He asked if I wanted to go to the hospital but I declined. All I wanted was to get out of this place. It turned out, that I gave myself a concussion.  I found this out when the left side of my face went numb. This lasted a couple weeks. 
With this in mind, and all that had happened in Thunder Bay with the venue owner not holding up her end of the deal, we decided to cancel the second gig. I was honest with her about what had happened.  The venue owner actually called me a liar and went 50 shades of crazy via messenger.  I was proud of myself for keeping a cool head and remaining respectful. I certainly couldn't say the same for her. That was our last gig ever in Thunder Bay. 
I learned a few valuable lessons from this gig. 
I never leave it up to the venue owner to promote a show. I always promote every show regardless of what they say. 
When driving the motorhome, we rent a camping spot for the night. 
We always tow the car. 
If you smash your head, go see the doctor right away.